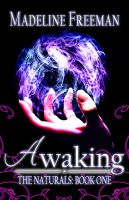 Awaking by Madeline Freeman
Morgan Abbey's life is about to change.
Just weeks before her senior year is set to begin, a mysterious stranger approaches Morgan with information that has far-reaching ramifications. First, the psychic ability she believes she has just been pretending to have since middle school might actually be real.
Second, her mother, who disappeared abruptly and completely almost a decade ago, might still be alive.
Morgan finds herself in the drawn into a centuries-old struggle involving a group of people who quietly coexist alongside the common people of the world. This shadowy group believes it is time for them to reclaim their former positions of power—and they believe Morgan is the key.
But when the time comes, will Morgan be able to do what it takes to reunite with her mother and fulfill her destiny?
My Review
When I read the blurb for this book, I thought the story line sounded very much like something I'd like, but I honestly didn't have high expectations for the book itself. I don't know why, I just felt like the writing would not keep me interested, I can't explain it.
I was very pleasantly surprised! The first night I started reading, I had to force myself to put it down because it was 1:00 in the morning and I had to get up early, so I knew I had to get to bed. The next day I picked it back up and didn't stop until I was finished!
It is about a girl, Morgan, and her best friend, Ris. Morgan is just good as reading people and she just thinks she's more perceptive than other people. She and Ris run a little business of doing card and palm reading for the kids in her school, and she's very good at it. Morgan's life changes suddenly when a mysterious older boy named Kellen walks into her life. She finds herself in the middle of a world she never knew existed.
I thought this book flowed nicely, the writing was really good. It kept my interest the whole time and had me excited to discover what would happen page after page. The ending was written well, and had me searching online, to no avail, to find out when the next in the series would be out. It is definitely on my must-read list! I will be searching for the sequel until I can get it!
I give this book 4.5 stars!