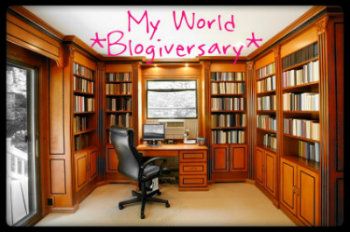 Thank you for helping me celebrate my first blogiversary!! For the newcomers, I will be hosting a giveaway ending at the end of this month. See all the great prizes and fill out the rafflecopter below!
As part of my giveaway, I am posting a spotlight each day for the rest of the month, showcasing a different contributor each day.
Today is the last day of the giveaway!!! Thanks to all who have helped me celebrate!
Help me welcome author T.J. Dell...
T.J. is a princess from the mystical island of Themyscira. Aided by her lasso of truth, and bullet-proof bracelets she fights for justice from her invisible jet plane..... No, wait that's Wonder Woman.

Well Wonder Woman is slightly more interesting than Mrs. Dell so we will leave that there. T.J. shares her imagination with you from her home in Maryland.
Vol. I
When Evie Parker meets Lucas Spencer she begins to feel hope again. Lately she's been going through life in a fog and Lucas is all about teaching her how to have fun again. For the first time since the accident she knows what it means to be happy.
So who cares if Lucas is a little odd. It isn't that strange that she's never met his parents, or that teachers never seem to notice when he's late for class. Evie tries not to care, but on top of all his peculiar behavior she's been feeling kind of sick lately-- ever since she met Lucas actually.
When Lucas decides it is time to come clean with all his secrets Evie has to make some hard decisions.
Vol. II
All Evie wants is a little bit of normal in her life-- is that really too much to ask?
Lucas isn't normal, but he makes her happy. That should count for something. Evie thinks she can find a balance that will let her be normal and also be with him.
Of course she hadn't counted on adding his family into the mix, or his ex-girlfriend.
Life with an elf is never boring.
Vol III
Lucas and Evie were finally at a place where Evie was comfortable with her mix of normal human teenager and fantastical elf boyfriend. Then she went and got herself crushed by a tree.
Evie wakes up with a whole lot of extra issues to deal with. Not the least of which is a trip inside the Veil to see Lucas's home. She never would have agreed to go if she'd known she was going to have her own secret to hide.
Libby has been in love with Tony Marchetti since she was seven years old. The problem? Tony is her best friend's older brother. Lately Tony has started looking at her in a new way and he emails her all the time. Could it be possible that he is starting to see her as more than his kid sister's best friend?
Tony knows Libby McKay is off limits. She's his sister's best friend for crying out loud! But she is also smart, funny, and seriously hot. Plus she's not afraid to get a little sweaty-- on the track that is. Tony can't seem to help himself, besides what's a few emails? The occasional phone call? He can keep things light and friendly-- Can't he?
Warning: This book contains some adult content.
Alyssa is all set for the perfect senior year. She's head cheerleader, she's dating the captain of the football team, and every girl in school wishes they were her. That is until she catches her boyfriend with another girl-- in front of the whole school.
Convincing her best friend Brent to play her new boyfriend seems like the perfect solution. Except, is saving her reputation worth jeopardizing the perfect friendship?
And many other books as well..
I read Whispers In The Woods and loved it! Click to see and excerpt and my review.
You can find her on the following links...
T.J. is giving away a signed copy of Whispers In The Woods, The Complete Collection!! To win, just fill out the raffle copter below! If you don't win, or if you just want some of her other books, just click
here.