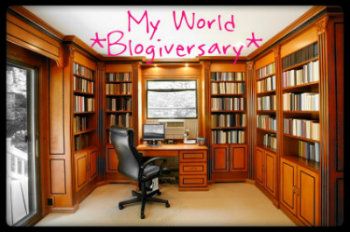 Thank you for helping me celebrate my first blogiversary!! For the newcomers, I will be hosting a giveaway ending at the end of this month. See all the great prizes and fill out the rafflecopter below!

As part of my giveaway, I am posting a spotlight each day for the rest of the month, showcasing a different contributor each day.
Today, we celebrate author Amber Garza!

(From her
website
) My name is Amber Garza and I LOVE to write. I've had a passion for writing since I was a little girl, making books out of notebook paper and staples. As an adult I've worked hard to make my dream of being a published a reality.
Amber Garza lives in California with her amazing husband and two hilarious children who provide her with enough material to keep her writing for years.
Amber is the author of many wonderful books..
Seventeen-year-old Mackenzie Smith is sent away to spend a boring summer at her grandma's. But then she meets Wesley. He tells her exactly what she wants to hear and has information about her past that no one else knows. It's almost like he can read her mind.
Only Wesley isn't who he seems.
By the time Mackenzie discovers his true identity it may be too late. She's in too deep and he won't let her go. Now Mackenzie must call on the strongest power of all in order to save her life.
Dazzle: Sixteen-year-old Delaney Scott possesses a special gift. Ever since she was a child she has known about her calling and the duty she's expected to fulfill.
However, all Delaney wants is to be normal. That's why she is drawn to Sam. He can offer her the life she's always desired. Only Sam has secrets of his own.
Secrets that are deadly. Secrets that can change everything.
Advanced Praise for Dazzle:
A definite MUST read!! Amazing new series! - Alexia Purdy, author of Reign of Blood
Torn between the unconditional love of a lifelong friend and the intriguing allure of a bad boy, you won't know who to root for in Garza's new young adult series. But one thing is certain, you'll be rooting for a sequel!
Glimmer: Sixteen-year-old Delaney Scott is not your typical teenager. She is one of ten Ekloge Warriors,born with the purpose of protecting the town of Edenly. Only it's a duty she wants to shed like a pair of dirty, worn-out shoes.
However, a daring rescue alters Delaney's life forever. Now there is no running from her calling, and things will never be the same again.
(This is a very short teaser story which includes the first three chapters of Dazzle, Book One in the Delaney's Gift Series)
A missing girl.
A young woman running from her shameful past.
A person with a dark secret who will stop at nothing to keep it hidden.
And the act of betrayal that binds them all together.
I've only read the Prowl Trilogy so far, but LOVED them! Here are my reviews for those books..
You can find Amber Garza at the following links..
Amber is giving away two ebook copies of Dazzle, and one ebook copy of Prowl. Fill out the rafflecopter below to enter.
Of course, if you don't win, you can always purchase any of her books, here are some links..