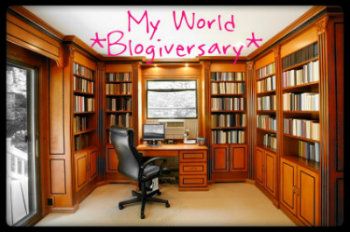 Thank you for helping me celebrate my first blogiversary!! For the newcomers, I will be hosting a giveaway ending at the end of this month. See all the great prizes and fill out the rafflecopter below!
As part of my giveaway, I am posting a spotlight each day for the rest of the month, showcasing a different contributor each day.
Today we're talking about Mysti Parker!
Mysti Parker (pseudonym) is a full time wife, mother of three, and a writer. Her first novel, A Ranger's Tale was published in January, 2011 by Melange Books, and the second in the fantasy romance series, Serenya's Song, was published in April 2012. Mysti reviews books for SQ Magazine, an online specfic publication, and is the proud writer of Unwritten, a blog recently voted #3 for eCollegeFinder's Top Writing Blogs award. She resides in Buckner, KY with her husband and three children.

Mysti's books include...
In the fantasy world of Tallenmere, an elven noblewoman longed to leave her gilded cage. A half-breed former pirate wanted nothing more than to escape his guilty past. Easier said than done...
High elf Caliphany Aranea leads an enviable life as King Leopold's niece and daughter of Sirius, Leogard's most famous wizard. Yet, being forced to follow in her father's footsteps and being betrothed to a man she doesn't even like makes her want a taste of life outside the city walls.
As a young boy, half-elf Galadin Trudeaux witnessed his parents' death at the hands of pirates. After being raised by those same murderers and forced to do their bidding, he escaped and now lives an honest life as a sea merchant and ranger.
When two brutes at Leogard Harbor attempt to kidnap Caliphany while she dreams of faraway lands, Galadin comes to her rescue. Impressed by his skills, she asks him to train her as a ranger. Though he is hesitant at first to train a woman of her class, Caliphany's hefty sack of gold finally persuades him. Unfortunately, her father is not amused, and the two must escape before Caliphany faces a forced marriage and Galadin faces a noose.
From that moment on she and Galadin embark on an adventure of a lifetime. Only if they can survive the trials ahead, will they find a love that stands the test of time.
In the fantasy world of Tallenmere, no one ever said love was easy...
Serenya Crowe may be a half-elf commoner, but she's no ordinary woman. With the ability to interpret dreams, and a birth defect that forces her to wear gloves, she's endured small-town gossip and the cruelty of her husband, Sebastian, The Earl of Summerwind. All she's ever wanted is to live a quiet life and raise a family. When she meets the new stranger in town, her world and her heart, are turned upside down.
Wood-elf Jayden Ravenwing is an ex-secret agent who wants nothing more than to forget matters of the heart. He left the bustle of Leogard and his failed marriage to make a fresh start in Summerwind. He never planned to fall in love again, especially with the enchanting Serenya Crowe.
When a strange portal opens on the Crowe property at the edge of town, Jayden is thrown into an investigation, knowing that if he fails, Serenya and everyone in Summerwind may die.
Together, he and Serenya must overcome an ancient evil, and their own inner demons, to save Summerwind and find the love they've always dreamed of.
You can find Mysti at the following links..
Here are my reviews for each of Mysti's work!
Mysti is giving away an ebook of each of these great books! All you have to do for a chance to win is fill out the rafflecopter below.
Of course, if you don't win, you can always buy them at these links..