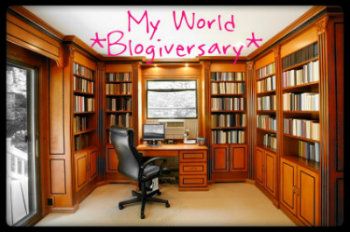 Thank you for helping me celebrate my first blogiversary!! I will be hosting a giveaway ending at the end of this month. See all the great prizes and fill out the rafflecopter below!
As part of my giveaway, I am posting a spotlight each day for the rest of the month, showcasing a different contributor each day.
Today, help me welcome author, Megan Curd!!
Megan Curd is a graduate of Northwestern College in St. Paul, Minnesota. While having always enjoyed reading any books she could get her hands on, Megan didn't begin writing until a friend encouraged her to do so while in college.
When not writing, Megan enjoys spending time with her family and friends. Traveling and snowboarding are hobbies she loves, and doesn't turn down the opportunity to play xBox with her brother and friends when it presents itself.
Megan currently resides in Eau Claire, Wisconsin with her husband and son.
McVean doesn't believe in fairy tales. That is, until Ashlyn is thrown into the crosshairs of grudges her grandmother created long ago. After finding out she is one of two people able to cross between faerie realms, Ashlyn is faced with trying to understand her abilities, along with navigating a new relationship with her boyfriend, Liam. As if being on a centuries old hit list and dealing with crazed pixies isn't enough, her new abilities mean trouble for Liam. Knowing her new life puts everyone she loves in danger, Ashlyn must decide what's most important in her life between friends, family, love, and ultimately, realms.

Ashlyn never believed in fairy tales until she was in one.
They say ignorance is bliss, but not when you're on a centuries old hit list...and there's a traitor in your midst.
Ashlyn must decide what's most important: trusting the allies she has, or siding with those she thought were enemies. Ashlyn knows old friends can turn on her, and unlikely allies may be the best chance she has to piece her family back together. No matter what her choice, she could lose someone she loves.
And when you don't know who to trust, believe one thing: You can never trust a faerie.
Levi's job is to protect his human until it's their time to go. That's what a Guard does. He's done it for years on end, and he'll spend his eternity doing the same, mundane thing, following the same, mundane rules.
...Watch from afar.
...Never share your name.
...And above all, never touch a human.
What Levi doesn't know is that his newest human to protect, Hannah, just might be the catalyst to tipping the scales between good and evil, and he will be forced to decide which side he belongs to. Which friends will he side with, and who will he ultimately protect: his human, or the delicate balance that hangs on stopping the heartbeat of the person he has sworn to protect?
And, when you're already condemned, what's there to lose by breaking the rules?
THE GUARDIAN CHRONICLES: FORBIDDEN will take you into a world of Guards and Guardians, Light and Darkness. What side will you take?
If you think these books sound awesome, you can win a Kindle copy of all three by filling out the rafflecopter below!!
Never fear, if you don't win, you can always get the books here:
Do you want to know more about Megan Curd? Check out these links..
a Rafflecopter giveaway