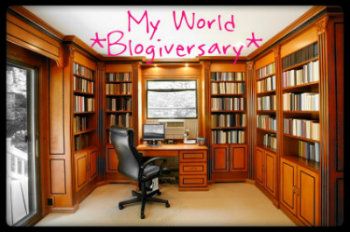 Thank you for helping me celebrate my first blogiversary!! For the newcomers, I will be hosting a giveaway ending at the end of this month. See all the great prizes and fill out the rafflecopter below!
As part of my giveaway, I am posting a spotlight each day for the rest of the month, showcasing a different contributor each day.
Today, we celebrate author Mary Ann Loesch
Mary Ann Loesch is the author of Nephilim, an urban fantasy published by Lyrical Press Inc, and Bayou Myth, a young adult horror novel. Her short stories have been published on line with various magazines and in the anthology All Things Dark and Dastardly. All three books can be purchased at Amazon, Barnes and Noble, and Smashwords in both paperback and ebook form. An avid reader, Mary Ann finds herself a fan of many genres, including urban fantasy, mystery, horror, and even a bit of literary fiction.
Follow Mary Ann's random thoughts at Twitter and Facebook, or check her weekly blog, Loesch's Muse, for insights on life, writing, and dirty martinis.
Mary Ann's books include...
As a sixteen year old voodoo queen in the making, Joan Renault just wants to be like all the other girls in the small town of Monte Parish, Louisiana—obsessed with boys and swamped with social lives. If the other kids would quit calling her "hoodoo hag," she might have a small shot at normality. It would also help if Joan's weekend outings with her secret crush, Dave, weren't always being interrupted by her dead Grandmere, the legendary Marie Laveau. After all, it's hard to make out with your best friend when your grandmother is watching! But when you come from a long line of voodoo priestesses with dried gator heads decorating the wall of their huts, normal doesn't come easily.
When Joan witnesses the brutal sacrifice of a child to a tree Druid, she learns her Grandmere's scandalous past has come back to haunt those living in the present. Hera, a vengeful voodoo priestess is determined to use the residual energy of Pandora's Box to revive a sleeping voodoo god and declare war on the descendants of Marie Laveau, especially Joan. Suddenly, Greek myths are being re-enacted all over town, and Joan has her hands full trying to sort it all out. With the approach of Samedi's Day—the voodoo day of resurrection—Joan must learn to accept her destiny in order to stop the approaching threat to her family and friends.
When sin stains your soul, he tattoos your skin...Tattoo artist Nathan Ink is more than he seems. An angel living in secret on earth, he forces his clients to face their flaws by tattooing images of their sins on their bodies, but this glimpse into the soul often results in his clients' deaths. Although Nathan avoids the other angels, when they ask him to keep an eye on Faye, a nephilim being stalked by another of her kind, he reluctantly agrees.The angels have kept Faye in the dark about her stalker, but to keep her close to Nathan, they've tasked her with investigating the high mortality rate of Nathan's clients. Despite her distaste for his methods, she finds herself fighting a growing attraction to Nathan, and discovering he's not a rogue after all forces her to question her own mission. When Faye learns her stalker is another nephilim who intends to use her to breed a new race of hellish beings, teaming up with Nathan may be the only way to prevent a genocide.Contains strong language and violence.
"Red Reader #1" is the first in a series of print publications aimed at promoting the work of underground and under-recognized writers and artists. This collection of poetry, prose and art provides readers with a wide range of topics, styles and themes and includes work from fifteen talented writers and artists.
A compilation of horror, mystery, and urban fantasy short stories by Austin authors with a distinctly dark side...Featuring stories by Kaye George, Mary Anne Loesche and Steven Metze.This title is published by Dragonfire Press and distributed worldwide by Untreed Reads Publishing.
You can find Mary Ann at the following links:
An ebook copy of Bayou Myth is up for grabs! All you have to do is fill out the rafflecopter below!
If you don't win, you can always get her books here..